Leading our diversity efforts
At Mastercard, combining our industry expertise with the diverse insights from our global workforce is at the core of our diversity strategy. Our dedication to cultivating an environment for all employees that respects their individual strengths, views and experiences is our foundation. We aim to promote increased engagement, which naturally leads to greater innovation and productivity.
Our Global Diversity Office provides a framework that supports business processes and procedures by considering, integrating and leveraging diversity globally.
The driving force behind our diversity strategy
The stature of Mastercard's Global Diversity and Inclusion Council (GDIC) reflects the value the company attaches to diversity. It acts as a board of directors for our Global Diversity Office, providing direction to ensure our strategy is embedded throughout the organization.
Chaired by our Chief Executive Officer, the GDIC has members drawn from all of the company's business regions: North America; Latin America/Caribbean; Europe; Asia/Pacific; and Middle East and Africa. It meets six to eight times a year to evaluate different programs, partnerships and other proposals that are presented as potential means of enhancing shareholder value.
Nurturing an inclusive culture
We leverage the unique strengths, views, and experiences of our employees through our support of Business Resource Groups (BRGs). These self-governed groups are comprised of individuals who come together based on similar interests or experiences, such as gender or ethnicity. BRG members help us to identify business programs that address the needs of diverse consumers by providing feedback on new ideas and initiatives, partnering with specific organizations, and reaching out to their communities.
Diversity is driving results
Mastercard has consistently prioritized attracting, retaining and developing a diverse talent base in order to execute our business strategy.
Gender*
The demographics of our employees will continue to serve as a measurement of our progress toward a more diverse and inclusive company.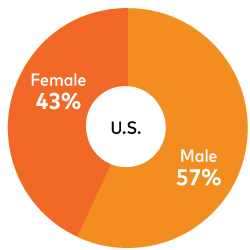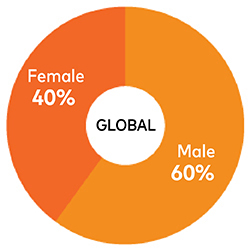 See how women at Mastercard are supporting the future of payments.
Pay equity*
A core element of creating diverse teams is to examine pay practices annually to ensure gender equality. We are committed to the principle of equal pay for equal work, and at our company, men and women in the same level earn equal pay for equal performance both in the U.S. and globally.
In addition, all roles in our U.S. organization are reviewed and assigned a value and market reference range based on market and benchmarking data on an annual basis. We use this data to recruit, manage and develop our talent. Mastercard also assesses compensation decisions for potential pay disparities by (among other things) gender. If disparities are found and not explained in an acceptable manner, appropriate responsive action is taken.
Furthermore, Mastercard offers multiple channels for employees to raise pay disparity concerns such as the employee's manager, our Ethics Helpline, Human Resources, Employee Relations or the Law Department.

Our commitment
Pay equity is just one component of our efforts to create a high-performing, diverse organization. We are signatories to the White House Equal Pay Pledge and our Board Chairman and other Mastercard management are active members of the 30% Club. We are engaged in the UN's HeforShe initiative and conduct our own signature global STEM program, Girls4Tech. This, as well as learnings from our recruiting and development efforts, will continue to play an important role in ensuring our organization has the diversity it needs to execute on our business strategy.
*Data as of March 1, 2017.
"Diversity and inclusion cannot be a nice-to-have. Rather, it must be expected, not simply accepted. The results of this prioritization are clear — better insights, better decisions and better products that differentiate a company from the competition."
- Ajay Banga, President and CEO